We cannot speak highly enough of Nurse Liz.
​Liz offered invaluable emotional support during a very stressful period as well as exceptional nursing care for my dad. Liz was proactive and went out of her way to provide both equipment and advice; it was reassuring to be supported by a true professional who was intuitive and extremely knowledgeable. Liz offered us detailed information about medication, surgery and post operative care as well as practical help dealing with the Spanish system! We are very grateful to have been put in touch with Liz and would have no hesitation recommending her.

​​b.evans1@lancaster.ac.uk
​
21st February 2016​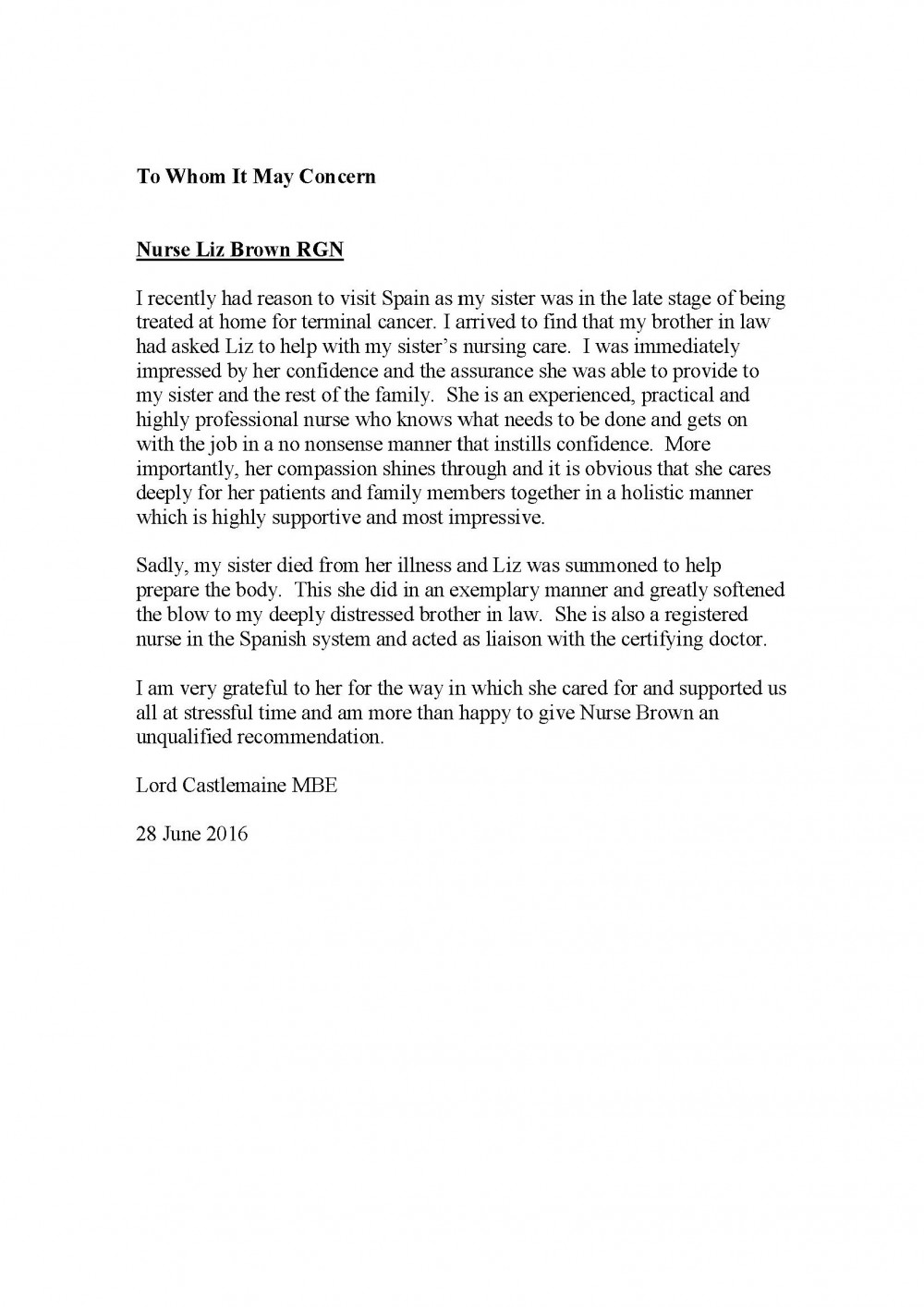 .An English Nurse Available
What a relief---an English RGN in our area!!--at last.
If you are having any health problems contact Elizabeth first, she has taken great care of my wife for the past few weeks, and due to her care and advice my wife has now passed her ITV ( MOT )
Seriously-She has been a great help to us ,- her professional manner and obvious knowledge of her work instills a sense of confidence, that in itself, leaves you in a secure and safe place--I have to say its a bit like visiting an NHS hospital,or should I say -visiting you in your home.
Her prices are excellent so dont panic, and she also follows up her visits with follow up emails regarding your progress
We will recommend her services to anyone--absolutely.
Elizabeth can be contacted by email --englishnurse@rocketmail.com
My info is --chicken.paul@hotmail.com
​Tel 636857697 should any one need any more clarification.
​
From: pat parker <panddparker@yahoo.co.uk> Date:06/12/2015 To: englishnurse@rocketmail.com
​
​Hi Liz, I didn't get a chance to email you after Diane passed away but I can now. Thank you for all the care and attention you gave Diane and myself earlier this year. Your professional and friendly approach was greatly appreciated by all our family and made a very stressful time easier to bear. You were excellent. The boys all send their best wishes too and hope you have a lovely Xmas. Kindest regards Pat
​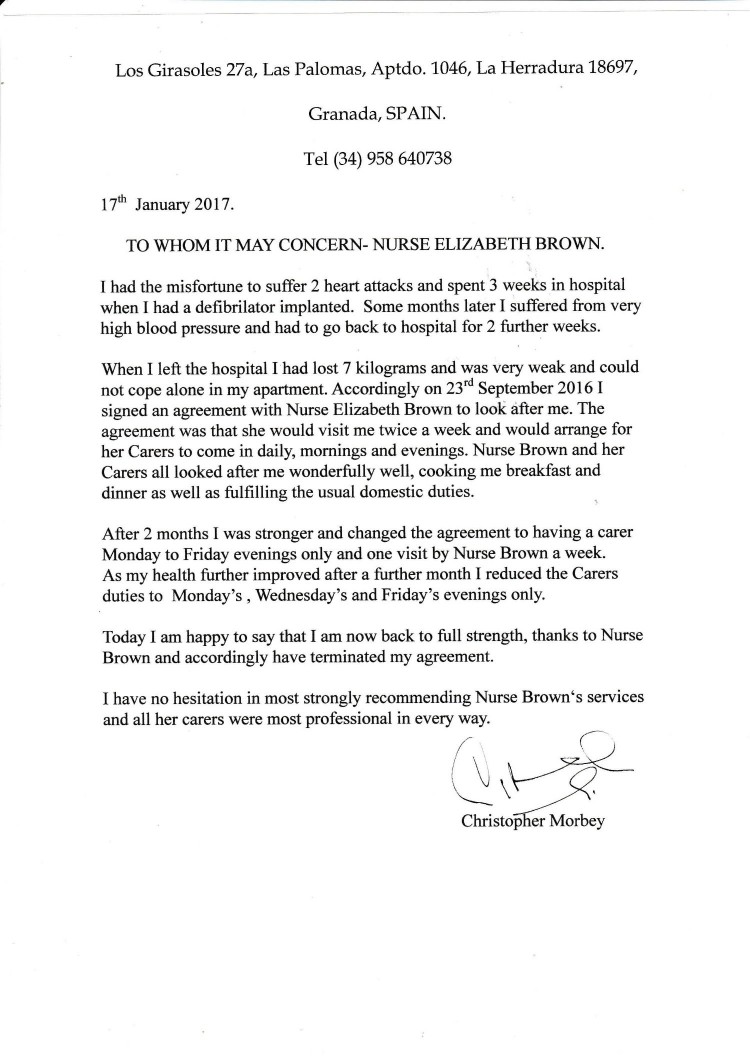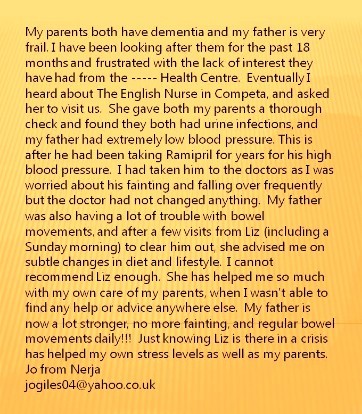 I recently travelled to Spain with my wife ,who suffers from Parkinson's, for a short break and my initial concern was that we were leaving the necessary back up and support services we have in the U.K.
I was therefore delighted to make contact with Liz Brown and her team who offer a home Care Service in the local area.
My wife's requirements were totally covered by the teams morning start up calls to shower, dress and prepare my wife for the day. The English speaking carers carried out their duties with sensitivity and professional manner whilst providing a relaxed atmosphere whilst carrying out their various tasks.
My wife was delighted with the support and assistance from the team with the knowledge, as was the need in our case to call on the medical skills of Liz, for the solution for a minor illness.
The provision of essential mobile equipment such as a wheel chair and other disability aids made up the complete package.
I would certainly endorse and recommend this organisation to meet the need for professional care support and I would highly recommend the service offered by Liz Brown and her team.

D. Jolly
Nerja February 2017
d.w.jolly@talktalk.net